Beauty & Self
Books & Music
Career
Computers
Education
Family
Food & Wine
Health & Fitness
Hobbies & Crafts
Home & Garden
Money
News & Politics
Relationships
Religion & Spirituality
Sports
Travel & Culture
TV & Movies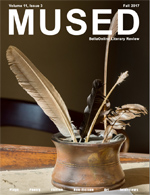 Autumn is a season for counting our blessings. For realizing just how much we have in life where so many others are without. It can often be easy to take things for granted. Things which millions of people desperately dream of having. By pausing for a moment, and looking around with mindfulness, we can find a new center. Begin with fresh energy.

Enjoy the Mused Autumn Equinox 2017 Issue



Curing Yourself With Essential Oil Products
Fragrance - Juliette Samuel, Editor

Is it possible to cure yourself with essential oil products that you can actually make yourself? If you take a look at how the ancestors dealt with discomforts in the body, a lot of what they used were remedies they made themselves. Learn more ..




Fitness, Menopause and Ethnic Beauties
Ethnic Beauty - Juliette Samuel, Editor

Menopause and Fitness. Do these two words go hand in hand ethnic beauty? They can, if you apply the right techniques.




Celebrate Greece—in Florida
Senior Travel - Hazel M. Freeman, Editor

You donīt have to go to Greece to celebrate the Greek culture. Itīs alive and well in the quaint sponge-diving town of Tarpon Springs, Florida. Come with guest author Eve Carr, and enjoy the celebrations, the shopping and, especially, the food.




Wrestling With Unanswered Prayer
Christian Living - Lynne Chapman, Editor

Am I praying in my own determination and strength or am I praying in the Spirit?




Being diabetic and travelling
Romantic Getaways - Marianne de Nazareth, Editor

Being a diabetic who loves to travel here are some do's and don'ts for diabetics reading this to make your life easier.




Mad Hatter Pepper-A Real Winner
Landscaping - Connie Krochmal, Editor

Mad Hatter pepper is an award winning pepper that deserves a place in the home garden.


| Google+ |
E D I T O R R E C O M M E N D E D
Christian Living Site Shop


Find book reviews of Christian Books both fiction and non-fiction. Read my experience in purchasing a Bible Book Cover.
The Weiser Field Guide to Cryptozoology


The Weiser Field Guide to Cryptozoology by Deena West Budd includes information, interviews, and stories about forty different cryptids seen in various places all over the world by credible eyewitnesses like policemen, rangers, and doctors. Readers will learn where and how to find flying humanoids, hairy humanoids, giants of all kinds including rabbits, bats and spiders, goblins, and vampires.