Beauty & Self
Books & Music
Career
Computers
Education
Family
Food & Wine
Health & Fitness
Hobbies & Crafts
Home & Garden
Money
News & Politics
Relationships
Religion & Spirituality
Sports
Travel & Culture
TV & Movies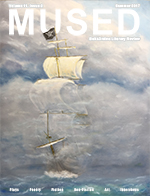 Our time on this Earth is fleeting and precious. We often know that in a vague, intellectual sense, and yet we can find ourselves whittling away those finite minutes without mindful thought. We should celebrate the beauty in a child's smile. The radiant sound of saying "I love you" to that special person. The warm touch of a hand. The delicate scent of a wildflower.

Enjoy the Mused Summer Solstice 2017 Issue



Texas Ranch Life
Senior Travel - Hazel M. Freeman, Editor

Taunia Elick's love of moving, and restoring old homes destined for destruction has helped her turn her passion for saving old homes into some of the most authentic, lovely and historic, lodging found in the Texas foothills.




New Mercy Every Morning
Christian Living - Lynne Chapman, Editor

I'm studying Lamentations 3:22-24 as my memory verse. It isn't easy to understand mercy that is new every morning.




Long-Acting Stimulant Meds for ADD
Attention Deficit Disorder - Connie Mistler Davidson, Editor

This week the news brought word of two new long-acting, stimulant medications approved by The US Food and Drug Administration (FDA) for Attention Deficit Disorder. One, Contempla, is aimed at children aged 6-17 years old. The other, Mydayis, was approved for ages 13-years old to adults.




Herbal Magick- Lavender
Pagan - Ian Edwards, Editor

Learn how to use Lavender in magick and potions.




Some Recommended Walnut Varieties
Landscaping - Connie Krochmal, Editor

A number of walnut tree varieties are available. Here are some recommended varieties.




Project Tutorial - Watercolor Wash in Rebelle
Digital Art and Design - Diane Cipollo, Editor

In this tutorial, we will create a watercolor gradient wash that will be a background for an Instagram social media graphic. We will learn how to use the Watercolor, Blend and Water tools and the wet on wet technique.


| Google+ |
E D I T O R R E C O M M E N D E D
Simple Delicious Italian Recipes


Simple Delicious Italian Recipes. Authentic Italian recipes easy to follow and simple to prepare, written by Cinzia Aversa, Italian Food Editor at BellaOnline.com. A perfect gift idea for any Italian food lover.
Ordinary People as Monks and Mystics


This non-denominational book is appropriate for any religious path, and helps you to explore your spirituality whether you are more of a mystic or more of a monk. Both approaches are valid.
The Eye of Adoption


Jody Cantrell Dyer´s down-to-earth, honest account of her experiences with infertility and the adoption process will have you laughing and crying. Perfect for anyone interested in learning more about adoption!