Beauty & Self
Books & Music
Career
Computers
Education
Family
Food & Wine
Health & Fitness
Hobbies & Crafts
Home & Garden
Money
News & Politics
Relationships
Religion & Spirituality
Sports
Travel & Culture
TV & Movies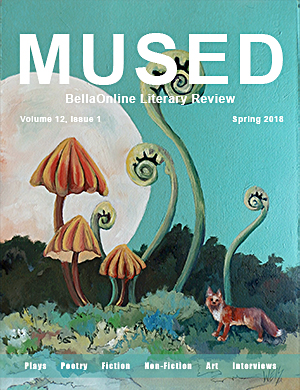 It can seem sometimes as if our world is whirling faster than we can keep up with. It can become overwhelming. Exhausting.

A balm which rejuvenates is to explore the creative efforts of individuals around us. To begin, turn off the noise and clatter of the world at large. Take a deep breath and instead focus on connecting with one fellow human being who presents their jewel of a thought to you. Examine it mindfully. Consider its meaning. Soak in the moment with this one human. Then connect with another. And another.

Enjoy the Mused Spring Equinox 2018 Issue



Hombres Tejedores
Knitting - Korie Beth Brown, Ph.D., Editor

In Santiago, Chile, knitting in public is an act of rebellion when done by men wearing suits.




The Legend of the San Nicholas Woman
Folklore and Mythology - Korie Beth Brown, Ph.D., Editor

Legends can be found all over the world. Here's one from California!




Choosing a Class Level
Yoga - Korie Beth Brown, Editor

Studios offer many classes each week. Which one is right for you?




Banned Natural Material Used in Art Objects
Art Appreciation - Camille Gizzarelli, Editor

Continued pressure from special interest groups have helped 'curb' poaching of elephants, sea turtles, & factory farming of reptiles. I'll discuss man-made materials that replace the natural.




Pacific Rim
Movie Mistakes - Isla Grey, Editor

Mankind is on the edge of extinction against the monstrous Kaiju. Can the Jaeger operation succeed? Try to find these movie mistakes in "Pacific Rim".




Does the Nose Really Know?
Fragrance - Juliette Samuel, Editor

n a world where personal preference and perfume choices go hand in hand, it's extremely important that you get what you like. That's the job of a Nose. Learn more about ...


| Google+ |
E D I T O R R E C O M M E N D E D
True Balance by Sonia Choquette


This terrific guide gives you fun, everyday ideas with which to open and strengthen all seven of your chakra energy-centers, including the third-eye chakra and crown chakra which help you to connect with psychic phenomena and the divine.
Itīs An Animalīs Life


Shopping is fun at Itīs An Animalīs Life. When youīre looking for the perfect animal gift, look no further.
Phoenix Rising


"No Eyes", a very wise, very insightful Shaman Indian takes Mary Summer Rain on a rare journey into the future where warnings of upheavals and challenges are gently yet thoroughly revealed out of love and preservation for her beloved Mother Earth.