Beauty & Self
Books & Music
Career
Computers
Education
Family
Food & Wine
Health & Fitness
Hobbies & Crafts
Home & Garden
Money
News & Politics
Relationships
Religion & Spirituality
Sports
Travel & Culture
TV & Movies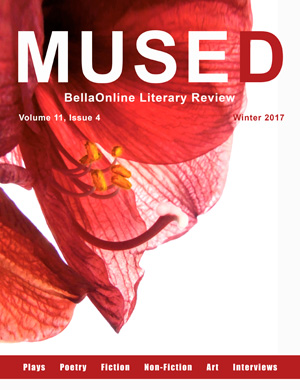 We all travel on this blue-green ball around our very own star each year, sliding a little closer, sliding a bit further away. The balance is critical. Too much closer and we'd roast. Too much further away and we'd freeze.

We should be aware of just how blessed we are that our Earth is "just right" - and do what we can to keep our world healthy. It's the only one we have.

Enjoy the Mused Winter Solstice 2017 Issue



Medusa and Lemon Drop Ornamental Pepper
Landscaping - Connie Krochmal, Editor

Medusa and Lemon Drop ornamental peppers are outstanding varieties. Medusa is suitable for growing indoors.




IUI Success Helped By Uterine Scratch Procedure
Infertility - Hannah Calef, Editor

Uterine scratch biopsy improves the chances of pregnancy with IUI




Sewing and E-Patterns
Sewing - Cheryl Ellex, Editor

E-patterns or online sewing patterns are convenient for a home sewer, often offered free or low-cost. However, a small stack of standard size 8.5 by 11 inch computer printing paper, printing ink, a reliable home printer and much clear tape for assembling a printed e-pattern are cost considerations.




7 day Deep Clean : Bedrooms
Cleaning - Tammy Judd, Editor

Taking Seven days to deep clean your bedrooms can remind you, when you are done, just how much of a haven your bedroom can be for you.




Cooking Goan cuisine in Tennessee
Romantic Getaways - Marianne de Nazareth, Editor

Cooking goan cuisine in Tennessee is easy with ready-made masalas




Valentine Card Project in Rebelle 2
Digital Art and Design - Diane Cipollo, Editor

In this Creative Motions Rebelle Valentine card project, we will use 2 free stencils, import them into Rebelle's Stencils panel and resize, rotate and position them on the canvas. We will also paint the stencil with the Watercolor tool and learn how to draw lines freehand with the Ink Pen tool.


| Google+ |
E D I T O R R E C O M M E N D E D
Simple Delicious Italian Recipes


Simple Delicious Italian Recipes. Authentic Italian recipes easy to follow and simple to prepare, written by Cinzia Aversa, Italian Food Editor at BellaOnline.com. A perfect gift idea for any Italian food lover.
Harvey Penickīs Little Red Book


This isnīt just another one of those instruction books written by a local golf pro. Penick is easily the most insightful instructor the game has seen. Little Red Book is a huge dose of reality about the golf and how to improve your game.
Bird by Bird by Anne Lamott


A funny, unpretentious, sympathetic look at the writing life. The section on allowing yourself to write a crappy rough draft (so you can get it done in the first place) is worth the price of the book alone.