Beauty & Self
Books & Music
Career
Computers
Education
Family
Food & Wine
Health & Fitness
Hobbies & Crafts
Home & Garden
Money
News & Politics
Relationships
Religion & Spirituality
Sports
Travel & Culture
TV & Movies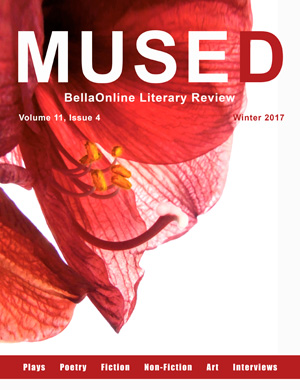 We all travel on this blue-green ball around our very own star each year, sliding a little closer, sliding a bit further away. The balance is critical. Too much closer and we'd roast. Too much further away and we'd freeze.

We should be aware of just how blessed we are that our Earth is "just right" - and do what we can to keep our world healthy. It's the only one we have.

Enjoy the Mused Winter Solstice 2017 Issue



Optimal AMH For Ovulation Induction
Infertility - Hannah Calef, Editor

Having a high AMH may reduce the chances of responding to ovulation induction




Golden Russet Apple
Landscaping - Connie Krochmal, Editor

The golden russet apple is one of the best known russet apples in America. It has long been a favorite.




Bathrooms, Buses and Elevator Doors
Etiquette - Lisa Plancich, Editor

A surefire way to irritate the person or people on the other side of the door is your failure to yield.




Healthy Breakfast Fruit Pizzas recipe
Cooking for Kids - Kymberly A. Morgan, Editor

This recipe will become your new morning friend! Your kids just might not even realize they are eating healthy with this protein and fruit-rich breakfast!




INTERVIEW 1 Graeme Smith
SF/Fantasy Books - Evelyn Rainey, Editor

First of two interviews with Fantasy Author Graeme Smith of the Dark Circle series.




Shopping in the US is fun
Romantic Getaways - Marianne de Nazareth, Editor

It's fun to shop in the US, especially if you get great deals on branded clothes.


| Google+ |
E D I T O R R E C O M M E N D E D
Low Carb - First Two Weeks


Get instant access to step by step instructions, handy tips to get you through the rough spots, background information on low carb dieting, and more.
Math Board Game - Addition - Subtraction - Time


The two-sided game board reinforces addition and telling time on one side and the other side is for the subtraction game. Each game has its own deck of cards, simple to follow instruction sheet, and offers variations for different learning levels, one on one, and team play.
Italki... Learn a language!


Willing to learn/practice a language? Italki is the place! Find native speakers (almost any language in the world). You will also earn $10 USD in italki credits! Help others and learn another language in exchange or schedule an online class with a native community tutor or a teacher. (Italki image from www.italki.com)